Chair Massage

Chair Massage for the Workplace
When can you use Corporate Chair Massage?

Client & Employee Gifts

- say thank you in a way that will be remembered

Trade Shows

- pull clients into your booth, keep them there for 5 minutes or longer, have them leave relaxed and happy

Employee Rewards

- reward a job well done

Meetings & Training

- keep attendees alert and energized (also see Seminars/Classes section)

Award Dinners

Employee Health & Performance Enhancement
Lunch hours and coffee breaks are necessary parts of a workday. There is evidence that massage should be too. Studies suggest that massage therapy improves the Bottom Line by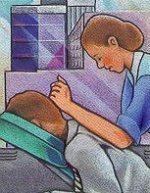 reducing repetitive motion injuries, absenteeism and job-related stress, while improving performance, productivity and morale.

Headaches alone cost about $13 billion a year in lost productivity and medical expenses. This does not even include losses from neck, back, wrist and shoulder pain.

Independence Blue Cross reports that 7 out of 10 workers say stress causes frequent health problems and has made them less productive.

Research at University of Miami showed that adults given 15-minute chair massages in their office each week for 5 weeks had:


improved EEG brain waves indicating greater alertness

elevated performance on math problems, completed in less time with half the errors

reduced on-the-job stress

less depression, more interest in work
Benefits of Corporate Chair Massage
Increases productivity

Reduces repetitive motions injuries for office, production and

warehouse staff

Reduces stress-related illnesses

Helps reduce burnout by increasing relaxation

Reduces direct and indirect health maintenance costs

Reduces workers' compensation and disability insurance payments

Reduces absenteeism

Relieves headaches, shoulder, back and neck pain

Boosts morale

Helps improve customer service

Appeals to everybody, unlike fitness programs which appeal to only those already fit

Shows employees that their employer cares

Offers a perk that helps retain valuable employees, which reduces training expenses

Requires no capital investment to initiate and no overhead to maintain

Lets small businesses offer large corporate benefits at a modest cost
Chair massage is performed at your workplace in a portable chair. Participants are fully clothed, no oils are used, privacy is not required. Massages last 5 to 30 minutes. Employees can resume work immediately feeling more relaxed and alert. One or more practitioners come to your location for the needed number of hours. To accommodate more people we will extend our time at your facility or increase the number of practitioners. For example, 2 practitioners can accommodate 12 10-minute massages per hour. Practitioners are certified or licensed, insured and professional. Fees may be paid by the employer, by each person receiving the massage or by a combination of both. Call or email to schedule your chair massage sessions today.